Tony Shimkin aka Kid Shimmy started Noble Music in 1992.
Shimkin is best known for writing chart topping songs with Madonna, Taylor Dayne, Cathy Dennis and Junior Vasquez as well as for his vast production work on multi platinum recordings and remixes

for Madonna, Whitney Houston, Prince, Nine Inch Nails, Seal, Aretha Franklin, Tina Turner, Janet Jackson and Paul McCartney. His songs and productions have been featured in films from Paramount, Universal, Lionsgate, Tri Star and Disney.
Shimkin co-founded LMNOP music and sound design in 1996 and between 2001 and 2009 was a composer and Creative Director for the bicoastal music house Face The Music. Tony's commercial work includes, Mercedes "Ignite" via Merkley and Partners, Oil Of Olay "Consultation" via Saachi, Diet Pepsi "Fight/Stunt Can" (With Jackie Chan and Featured on the Superbowl), The Hanes campaign featuring Marisa Tomei, Matthew Perry and Michael Jordan, Numerous spots for Scion including the theatrical ad "Declaration" and Covers of popular songs including Chaka Kahn's "I'm every woman" and Sly

and The family Stone's "Thank You" for Playtex and Hot Chocolate's "You Sexy Thing" for Miracle Gro. Tony has worked closely with acclaimed director Fabien Baron to score numerous Calvin Klien ad's such as the racy web only "Natalia's Room" as well as spots for Armani, Loreal, Carolina Herrera and Burberry. Other spot work includes clients such as Mercedes, Visa, Ford, Revlon, Chevy, McDonalds, Coke, Pepsi, Showtime, HBO and CNN. Shimkin also penned the theme to MTV's Driven.

Shimkin received the honor of Adweeks top 25 spots of the year in 2003 for his work on Visa's "Yao Ming", which was also featured in the book "The Superbowl of Advertising" and was a finalist in the 2004 LIAA awards.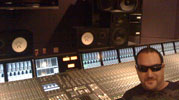 Recent record production includes albums for Sony and EMI and he is currently working with and developing new artists. Shoot magazine has characterized Shimmy's work as an artist in his own right as "Having a versatility of style not limited to the rhythms of an urban jungle…..bringing cool to a higher plane." Billboard's review of Shimkins song "Believing" (which was licensed for use in a Labatt's Ice Beer Spot via Lowe SMS) stated "The producer / songwriter who co-penned tunes for Madonna reveals a vastly different side of his musical personality with an abrasive industrial cut that will most readily connect with fans of Ministry and Nine Inch Nails."
Shimkin was born and raised in NYC.